"Serving the Client Wholeheartedly", RHM Wins Accolades from the Client Again
"Serving the Client Wholeheartedly", RHM Wins Accolades from the Client Again
Recently, Nantong Rainbow Heavy Machineries Co., Ltd. (RHM) received a letter of thanks from Shanghai Tengdong Construction Co., Ltd. In the letter, Shanghai Tengdong Construction Co., Ltd. highly affirmed and praised GENMA project team for its construction principle of selfless dedication and indomitable struggle and client-oriented service concept.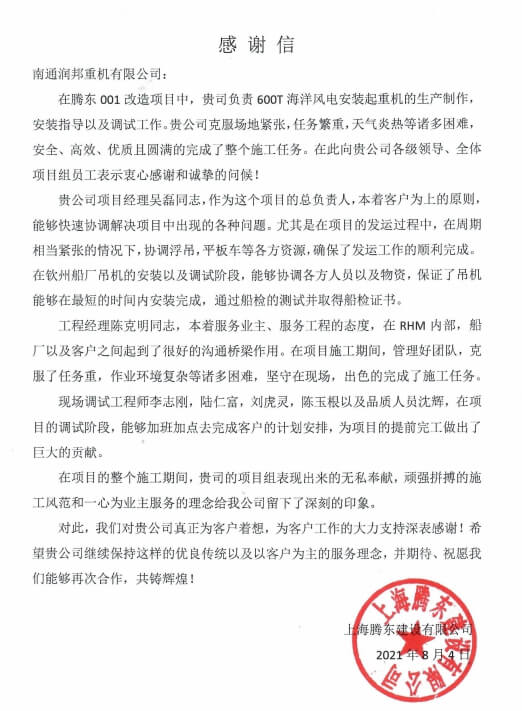 "Tengdong 001" is a professional operation platform for offshore wind power installation. RHM provided a GENMA 600-ton full rotary marine crane for the project as well as comprehensive technical support for the installation guidance and debugging of the equipment. In the construction process of the project, the project team of RHM overcame the difficulties such as inadequate site space, heavy task and hot weather, etc., and finally completed the whole construction task safely, efficiently and successfully and at the same time guaranteed high quality.
RHM has always adhered to the philosophy of "becoming a trusted partner of the client" and kept creating values for the client. With the advantages of excellent technical quality, safety control and schedule management, the company has provided more than 10 sets of GENMA equipment for multiple domestic wind power installation platforms. In the future, RHM will further carry forward its excellent business principle and service concept and wholeheartedly provide the client with professional and high-quality solutions to marine engineering lifting.